Danfoss: We design the full experience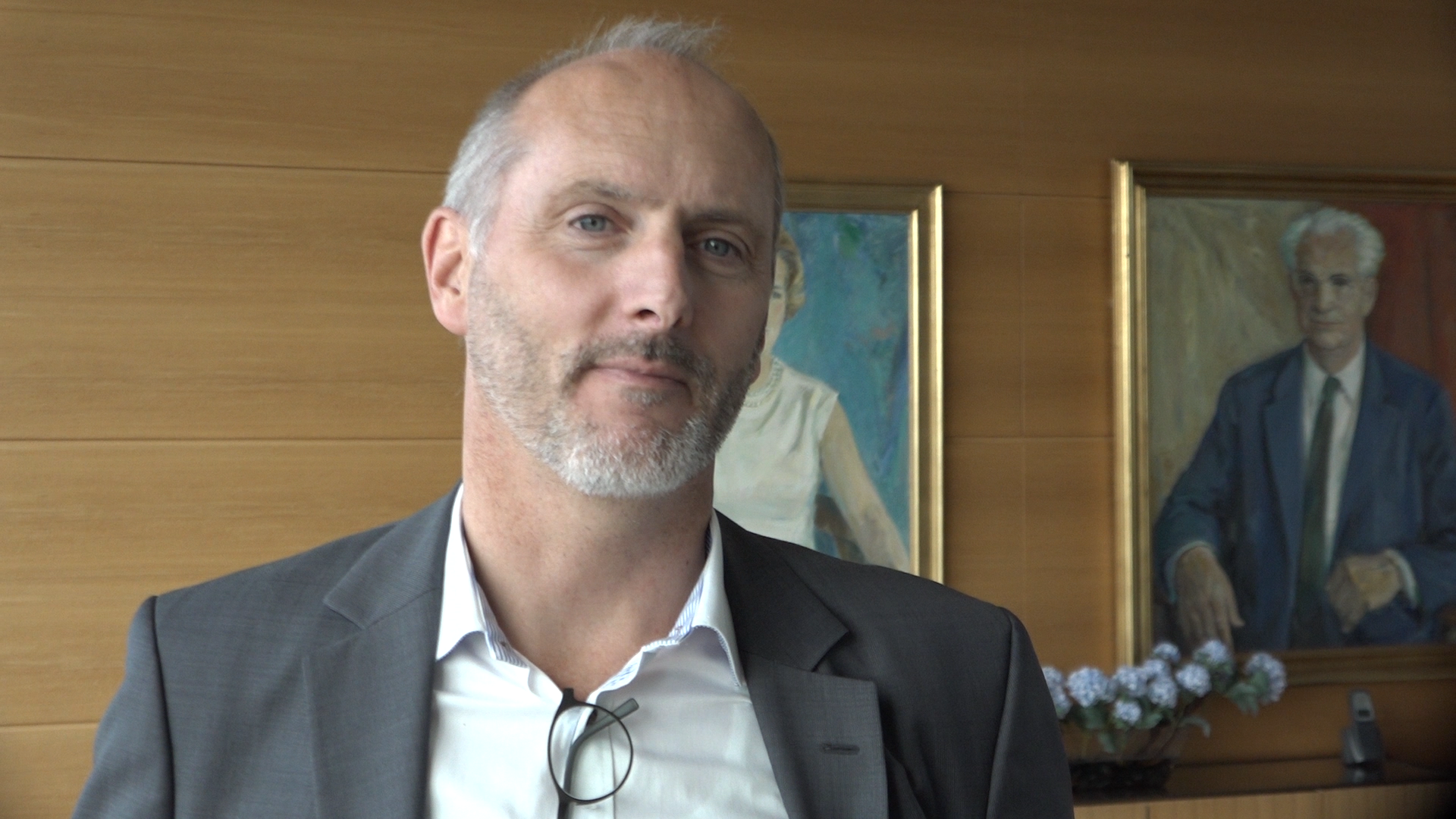 Design is the glue that binds it all together, says Michael Qvortrup, corporate design manager at Danfoss. Danfoss has received numerous design awards over the years, and in 2018 the company received a Danish Design Award for the energy-efficient Danfoss Eco radiator thermostat. As a new sponsor for the Danish Design Award, Michael Qvortrup talks about the design journey in one of Denmark's biggest companies.
Danish Design Award: What role does design play at Danfoss? And what does a design manager do?
Michael Qvortrup: Danfoss's prime purpose is to develop products that make a positive difference and work well for the users. Our products are technically sophisticated, and my role is to ensure we keep the end-user in mind during product development and that all our products reflect Danfoss's core values and DNA. When we deliver a product to a customer we are selling a holistic experience. From understanding user needs and providing an efficient purchasing process to simple unpacking, installation and day-to-day operation.
Each of Danfoss's four business segments has a design manager who works with the in-house designers, who are typically part of our product development or innovation teams. In our heating segment, for example, designers work with experimental design. We also have a long-standing tradition for working with external design agencies.
As corporate design manager, my job is to ensure coherency across our business segments, so that our DNA, product idiom and corporate identity come through in clear and consistent form. Even if you were to remove the logo from a Danfoss product, it should still be clearly recognizable as a Danfoss product.
Danish Design Award: The Danish Design Award highlights the difference design makes for companies. One implication of that is that good design is good business. How do you rate your investment in design guidelines?
Michael Qvortrup: Our investment in design guidelines generates value in two ways in particular. External designers and design agencies can get on board quickly, and the guidelines provide clarity, which limits discussions that are really rooted in personal preferences.
Sometimes they also lead to frustration, of course, but we have to have certain parameters framing our work. In my experience, once the design teams get started, their work is efficient and creative, and they actually find it liberating to have some guidelines for the development process.
Danish Design Award: Your journey with design has been a long one, from a product and technology-oriented approach to a much more strategic and design-driven one that revolves around customer needs. Looking back over the past 10 years, is there one specific experience that stands out and made you think, now we're on the right path, now we've got it right?
Michael Qvortrup: When the Danfoss strategy Core and Clear was launched in 2010, in the heating segment we made a huge board with some of the upcoming products that followed our design line. At the top we wrote 'One Company' to underscore that our design guidelines could ensure consistency and a clear product idiom. Our CEO saw the board at a management meeting, and according to one of the heads of development, he said, 'That's the way we need to be going.'
Subsequently, the former director of the heating segment commented that had he known the potential of design, developing and implementing design guidelines would have been his first decision when he took over as director.
To me, personally, the two statements confirmed that we were headed in the right direction, and that we had been successful in our mission. That is far from my achievement alone, it's a team effort, but it's one that it was very satisfying to have been a part of.
Based on our experiences in the heating segment we began to test whether the design elements could also work for our other business segments. Initially, of course, it was a little tricky to explain how the building blocks bricks and design elements from the heating segment could be used to make cooling products and frequency converters. It takes a major effort to bring such a big company together around one shared design DNA. However, as our colleagues in the other segments began to play with the parameters, it all began to come together. We generated understanding and engagement by holding workshops where all the product and business managers, engineers and designers could see and understand the purpose, implications and content. Among other things, we presented examples of products that had been converted from an old design to a new one, and that was very convincing.
Danish Design Award: What is your next personal dream for Danfoss's design journey?
Michael Qvortrup: I dream of seeing Danfoss become the Apple of our industry, driving the company to a level where design is an integrated aspect of everything we do.
Today we target our design budget on the products that people can see and operate. I think there's great potential value in adding even more design to all our products – including the ones no one sees – and in making sure that all the elements not only feature a Danfoss logo but carry our DNA in their product idiom. I also see tremendous value in getting even closer to our customers with more user testing and user involvement.
Moreover, we are in the middle of a major digitisation process. From where I sit, my own area of work, that too is a very exciting time for design. We rely on design to make our technical solutions human and accessible and to focus on value for our customers. Today, we not only make products but also systems that are digitally connected. In that context, design is the glue that binds it all together.
Danish Design Award: What do you find most exciting about being design manager at Danfoss?
Michael Qvortrup: The way design is intertwined with innovation. I find it exciting that as a company we have invested in innovation centres, digital hubs, in cooperation with specialists who drive design thinking processes and develop innovative solutions. In a sense, we're a source of internal disruption.
We also have our annual Man on the Moon competition, which is open to employees across our business segments. The winners get a three-week stay at MIT in the United States, and when they return they have six months to see if the project is feasible within the framework of the company's design DNA.
Of course, the purpose of the competition is to bring out the innovative and entrepreneurial side of the company's employees, but it also fosters collaboration across business segments. It results in ideas and concepts with the potential for generating new markets, new products or design solutions to problems that have gone unsolved.
For example, predictive maintenance is a solution that emerged from this competition. It lets different frequency converters for electric motors talk to each other and thus makes it possible predict a future breakdown. Really clever, novel and easy to implement.
Danish Design Award: You have decided to sponsor the Danish Design Award this year. How come?
Michael Qvortrup: Danish design is a core part of our DNA, and our cooperation with the Danish Design Award is a great opportunity to brand Danish design. Hopefully, our commitment can help make even more companies aware of the value of design and also draw attention to our product design here at Danfoss.
Denmark has a really strong design narrative and a unique design DNA defined by values such as putting people first, simplicity, durability, sustainability and, not least, value for money. At Danfoss, too, design, sustainability and durable products are key to our ambitious growth objectives and to our effort to make a difference in the world in regard to climate change and other major challenges. We would like to ally ourselves with others who are driving the same narrative, so I see great mutual benefits in Danfoss' cooperation with the Danish Design Award.
The Danish Design Award helps re-promote Danish design and embraces a broad concept of design. To compete on the global market we need to compete on design too, and design has to be a management concern.
Danish Design Award: What does it mean to receive a Danish Design Award?
Michael Qvortrup: It means a lot when an outside group – in this case a jury with impressive professional credentials – that has no particular interest in Danfoss but wants to promote good design gives us this pat on the back. The Danish Design Award also provides a tool that a design manager can use to explain internally, in the company, what design is and what it has to offer.
Moreover, our Danish Design Award generated a great deal of international media coverage this year. Danish design is widely acknowledged around the world, so receiving a Danish Design Award generates positive attention.
Danish Design Award: You won the award for Danfoss Eco, an energy-efficient radiator thermostat that can be accessed digitally. What makes Danfoss Eco an example of good Danish design?
Michael Qvortrup: It's a great product that combines the old story about us making some of the best thermostats in the world in with the new story about products for the digital age that everyone can understand and use. It's a great match for contemporary architecture, and it's durable and sustainable. It is something we can be proud of.
Other Articles