Fredericia Furniture: The impact of a chair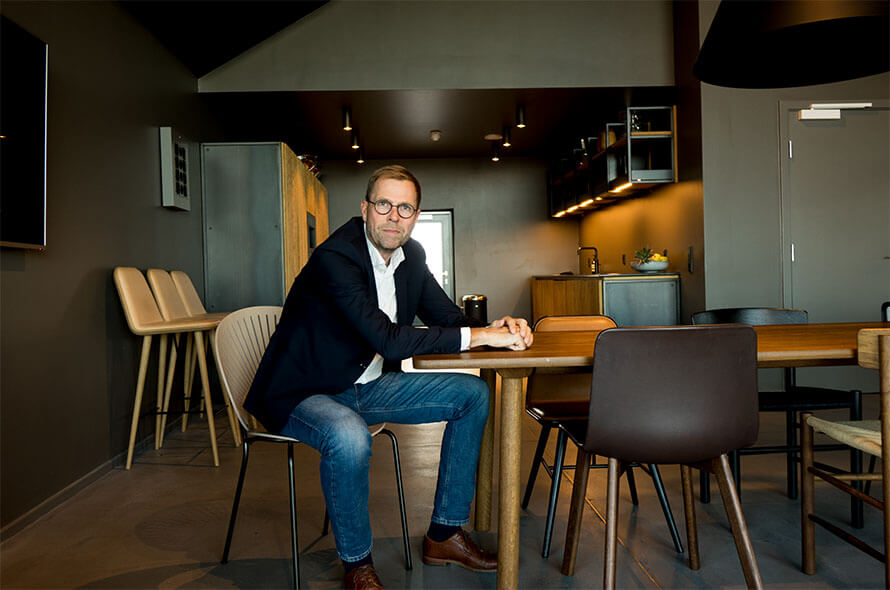 Danish Design Award met Thomas Graversen, the owner and creative director of Fredericia Furniture, for a talk about the impact of design awards on product development and the bottom line. The time-honoured furniture company received the Danish Industrial Design prize for the Trinidad Chair and saw impressive growth rates in the aftermath of the transformation that was initiated with the award-winning chair. As a new sponsor of the Danish Design Award, he agreed to sit down for a talk about the difference that design can make – for a company and for an industry.
Design is much more than a chair. But a chair is also much more than just a chair. Thomas Graversen can attest to that. During the 22 years that he has been the owner of Fredericia Furniture he has insisted on playfulness and experiments in production and on maintaining a close dialogue with the designer. Both approaches have promoted innovation – both in the form of massive growth for what was once the small, family-owned company Fredericia Stolefabrik (Fredericia Chair Factory), and in the design industry, where new designs and materials challenged prevailing norms for furniture making.
Danish Design Award: – In 1995 Fredericia Furniture received the Danish award, then the ID Prize (the Industrial Design Prize), for the Trinidad Chair, which you developed in cooperation with Nanna Ditzel. Why did you receive an award for that particular chair?
Thomas Graversen: – When we received the award it was actually the first piece of furniture to be selected. That in itself made it a special event. Previously, the prize had been awarded to Grundfos pumps and Danfoss thermostats. According to the jury, we won because the Trinidad Chair was feminine and organic yet also highly industrial. And it deserved to receive the award, for the impact that lay in its industrial approach to design; Trinidad was designed to be manufactured on the first 5-axis CNC machine to be installed in Denmark. And Nanna Ditzel was fascinated with the capabilities of such a machine. As a person, she was inherently curious and interested in taking things to the next level. She was trained in the Danish furniture tradition of the Klint School, but she also found it exciting to see whether new technologies might challenge design. In fact, she gave the chair its now familiar slits to allow the CNC technology to demonstrate its potential.
Danish Design Award: – And the chair – what difference did it make? For your company, but perhaps also for the furniture industry?
Thomas Graversen: – First of all, the timing was right. Back then, in the 1980s, the industry was showing some signs of fatigue. There had been an entire generation of designers who were influenced by the legacy of the great designers from the 1950s and 60s. And breaking free from that legacy was no easy task, because their work was so outstanding. Thus, many designers were at a loss for direction. For, how could they possibly improve on a Wegner chair? At that time, Nanna Ditzel had returned to Denmark (from London, ed.), and in addition to being a trained furniture designer, she was also an industrial designer. Nanna didn't give a hoot about the past – she was busy doing what she wanted to do. So, in that sense, it was almost a foregone conclusion that she would be the one to design what became the next step in furniture history.
Industrial design with a feminine touch
Danish Design Award: – Why do you think that Trinidad found such a wide audience?
Thomas Graversen: – We were able to use technology in a way that didn't turn out a brutal industrial product, but instead a very sensitive product. I also think that the fact that it had ornamentation felt slightly liberating at the time. Back then, that was somewhat taboo in the Danish design tradition, which was all about paring down and getting to the core of things. But above all, it was successful because people were surprised to find how comfortable it was. So, all the form elements were in place, and in addition, the chair could virtually be manufactured by a robot.
An award for the entire value chain
Danish Design Award: – What was the impact of Trinidad?
Thomas Graversen: – The design prize was important for the chair and, thus, important for the company. The chair was our first joint project, and it generated so much PR for our company and for the old factory that we thought, 'Wow, that's effective!' When I bought the company from my dad in 1995 we had a turnover of DKK 19.8 million. We were a relatively small company, mostly known among architects. Then Nanna approached us, in 1993, and that same year we co-designed Trinidad, which was awarded the design prize in 1995. From that point on, things really took off. Trinidad generated renewed attention for our brand, and that helped us sell more Børge Mogensen designs too. It boosted everything we did. And suddenly, architects, interior designers and others could use the Fredericia brand again. Trinidad also became attractive to our subcontractors. It was also a chair that was easy to sell in retail. So, Trinidad was not just a growth generator for Fredericia Furniture, but also for other links in the value chain. In a sense, the design effort generated tremendous growth. It revitalised our company and also helped the sale of other products.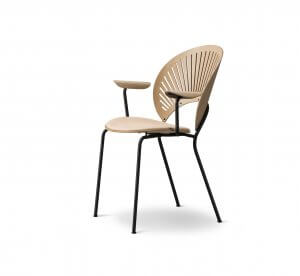 Playfulness as a driver of innovation 
Danish Design Award: What do you think other companies might learn from your example? 
Thomas Graversen: – Today, companies are focused on identifying the next business opportunity, and one major trend is experimentation. I am a big believer in the value of playfulness. With Nanna, my first thought was that she just wanted to use us a sort of laboratory, where we would test what she wanted to try out. And it was this playful process that led to the design of Trinidad. Then we actually became good at doing joint commercial projects, and soon, Nanna's work accounted for 40 per cent of our turnover and even surpassed Børge Mogensen in terms of royalties. Over a period of 10 years, we added DKK 100 million to our turnover with that strategy.
 – I am also very focused on the dialogue aspect of the design process. Designers have a strong role, as the ones who explore new production technologies and materials and find new ways to use them. That can sometimes clash with the engineers, when they are pushed out of their comfort zone, but it's important. And it is just SO cool when one's own ignorance and curiosity can drive even the most incarnate engineer to keep pushing and pushing until they get it right. Nanna had that approach. She did not take no for an answer once she had set her mind on something. I remember a time when we were sitting with a subcontractor who kept insisting, 'Mrs Ditzel, with all our accumulated knowledge, what you're asking of us is simply impossible.' And they explained at length, with reference to the technical specifications, why it was completely impossible to make the rings the way Nanna had envisioned. To which Nanna replied, 'Interesting. So, you've tried it?' 'No, we haven't tried it. But really, with all our accumulated knowledge, we tell you, it can't be done,' he replied. 'Aha,' said, 'Then I think we should try it, and then we'll talk.' The result was a perfect chair. And in fact, that was encouraging for the subcontractor too.
So, if a machine manufacturer thinks that he doesn't need to interact with the designer, but simply has to produce what he or she presents, they don't understand the process. I think that mindset is one reason why so many designers enjoy working with us. Because we get so involved. The dialogue is about working together to create an idiom, an ambitious aesthetic and, at the same time, daring to be 100 per cent commercial.
Good design generates a positive impact
Danish Design Award: When the Danish Design Centre and Design denmark relaunched the design prize as the Danish Design Award in 2016, our focus was on celebrating the difference design makes. How do you see the award after the relaunch? Could you see your company take part in the Danish Design Award?
Thomas Graversen: – The impact message of the Danish Design Award is one that we all have an interest in conveying to Danish companies. But I also think it's important to bear in mind that the designs that receive the award should have a real-life potential, so that they can form the basis of a case. And that points back to the jury. It needs to include members with a commercial background. I would like to see some business graduates on the jury. Another important point is that the designs that receive the award can help generate jobs and growth. That may be difficult to determine from a furniture case. But Fredericia Furniture is a good example of that, and we can definitely see ourselves being part of the Danish Design Award.
Danish Design Award: Is that why your company as stepped up as a sponsor this year?
Thomas Graversen: – Yes, very much so, and because the Danish Design Award represents a story that matches our company well, with our ambitions for both design and growth. And generally, we view it as a shared communication task to enlighten business and industry on the use of design and to encourage designers to create superior products and solutions that have a commercial potential. And, of course, we need to promote the cases that the Danish Design Award can generate. It goes without saying that we should celebrate Danish design and the difference it makes.
Other Articles